If you are looking for a Verandah builder near me, then you cannot go past us here at Deck on builders.
When looking for a Verandah builder , you have come across the best building company in Melbourne by far.
Deckon Builders have been building verandahs and decks in and around Melbourne for the past 30 years. So why wait, get in contact with us today for your next building project. looking for a Verandah builder near me is probably the easiest way to get your project up and moving. We are not only building verandahs we also build decking's. Being registered builders with the VBA (Victorian Building Authority) we can insure that you get your building permit issued with ease. You will have complete confidence when building with us as we have a dedicated team to get your product moving quickly.
Have a look at some of the products that we have created in the past. We do do complete different designs but these are some of our products for you. When contacting with us we can do custom design projects to suit everyone's needs.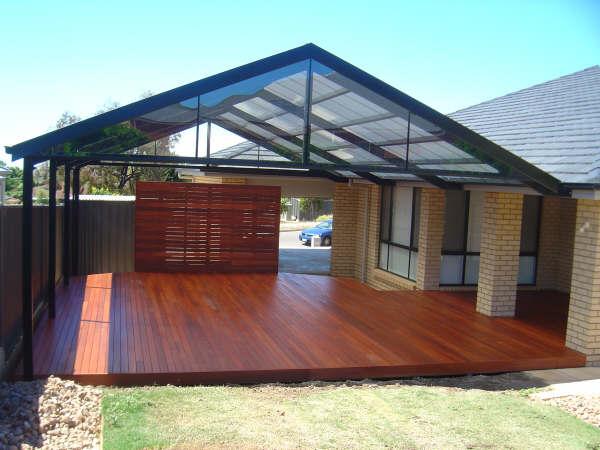 A veranda or verandah is a roofed, open-air gallery or porch, attached to the outside of a building. A veranda is often partly enclosed by a railing and frequently extends across the front and sides of the structure.
Product strength and performance are key factors when deliberating on your dream outdoor project. Our Verandahs, Pergolas and Carports are designed and manufactured from the highest quality materials and are comply with the relevant Australian Building Standards.
Our specialist Verandah, Pergola & Carport Builders have been servicing the Eastern Suburbs of Melbourne for over 30 years.
An extensive range of sheet roofing products offer multiple choices with regard to maintaining natural lighting, shading, UV protection, heat reflection, colour co-ordination and profile shape.
"Polycarbonate" sheets are a very popular roofing option, but did you know that there are a number of different brands offering different qualities, durability, pricing and performance?
"Colourbond" is a great AUSSIE product ideal for verandah roofs. It is available in multiple colours, complete with matching gutters and capping. It is extremely good looking, durable, strong and protects from all the elements for many years. So which one is for you?
Flat Roofs & Gabled Roofs provide all weather protection for your family and outdoor furniture and offers the option of taking the indoors, outdoors.
While the type of decking material depends on your design, our most popular option is Merbau Timber. You can also use Treated Pine, Australian Hardwoods and Composite Decking (Trex).
Timber Decking Builders offers free advice on product selection, pricing, durability and application. All of our options are low maintenance and built to last for many years.
We take time to explain the options in detail. We are very much "customer focused" and take time to listen and understand our clients needs.
We can offer you a beautiful outdoor solutions for your entertainment needs. So get in contact with us today for your next building project as we can offer you an on-site design and quotation.