It has come to our attention that building Decking's of composite material has become far more popular in the building industry. As the composite deck becomes way more popular there are more and more products coming on the market. Currently there are over 45 different types of composite decking but we have chosen our top five on offer for your convenience.
When designing a decking it is always a good idea to keep in mind durability, and composite decking is very durable indeed.Coming in a range of different colours that suit the natural environment ,it blends in quite well to other elements throughout your home.
Older composite decking is as in first-generation modwood was a material that was not capped and it was very fibrous.The new composite capped decking's are very durable indeed. But in saying that if you have large pets they will scratch the decking. Small pets are okay but large dogs will damage the decking.
It is suggested that using Merbu or another type of hardwood is a better product for pets that have big claws, because if they do damage you can replace easily. Composite decking is a clipping system and to replace the board becomes quite complicated but it can be achieved. Best to have this done by a professional installer.Here at Deckon we are professional installers, so you are in safe hands.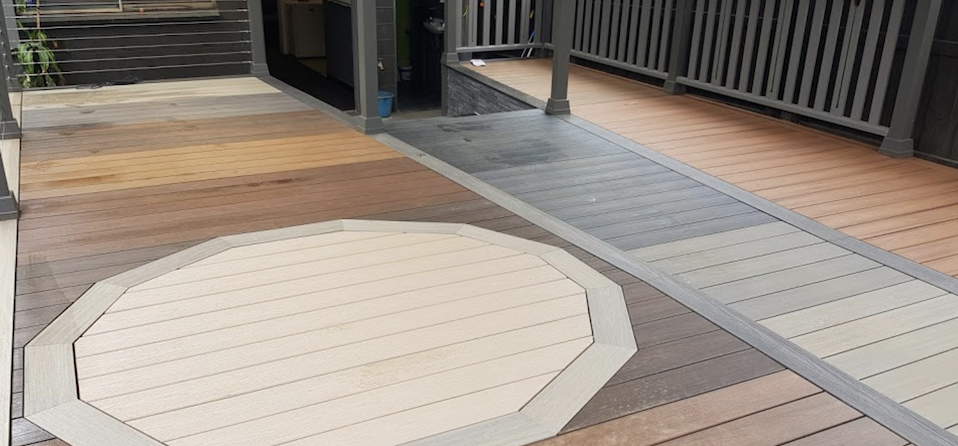 The photo above is a display that was built by Kevin from Elite Deck builders Melbourne.Kevin comes highly recommended from me as he has been building decks for a very long time and he is extremely particular when it comes to getting things right.His skill level is very exceptional and I would highly recommend him to do an installation.